Flowers for all Occasions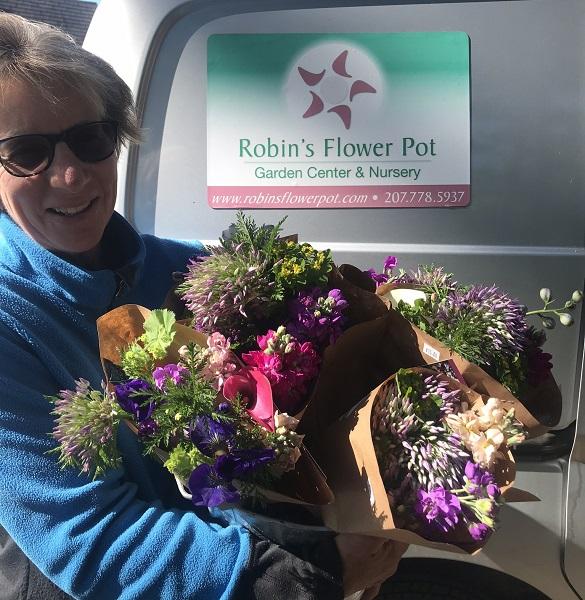 Hi, I'm Robin, I've been growing plants for 20+ years at Robin's Flower Pot. I decided to branch out 5+ years ago and create Robin's Awesome Blossoms and became a flower farmer. I now grow fresh cut flowers along with running our greenhouse business. Growing fresh cut flowers is a whole new set of challenges, from weather to insects and diseases. Despite the challenges, or maybe because of them, growing flowers has become an addiction for me. Working in the gardens with beds full of beautiful flowers, swarming with bees, birds and butterflies is a treat. Harvesting flowers early mornings and evenings is a peaceful way to start and end my days.
Blooming Bundles, Fresh from the Garden.
Here at Robin's Awesome Blossoms, we'll harvest a beautiful assortment of our seasonal freshly picked flowers to create your colorful vase arrangements. You may request one color to be eliminated or one color you wish to include. Please note that all flowers (and colors) are grown by us and are subject to seasonal availability.
When picking up your flowers; please be prepared with an airconditioned vehicle and a cool place to store them. Careful with coolers and fridges as some are set too cold.
Delivery is available within an hour of our location for an additional fee.
Event OPTIONS
Mix and match any number of the below options to fit your event needs. All options can be made with fresh flowers (grown here), from May to October or dried flowers (grown and dried here), all year round.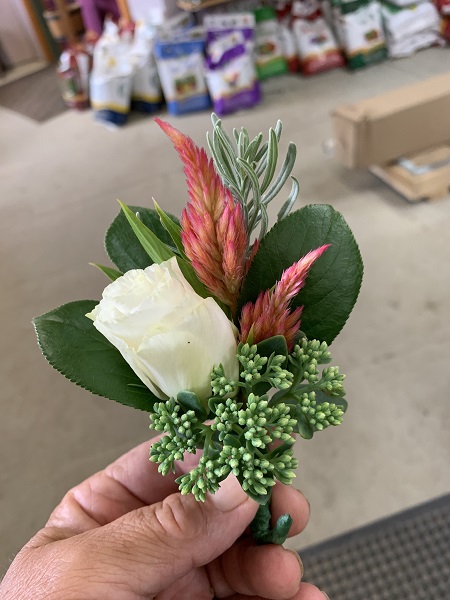 Corsages- $25.00 (pin or wrist)
Petite Table Vase- $20.00
Bud Vase- $12.00
Table Centerpiece- $75.00
Extra Large Centerpiece- $125.00 +
Buffet Arrangement- $80.00
Welcome Wreath, starting at- $35.00
Garland- $12.00 + per foot
Custom Planter(s)- TBD
Plus tax.
DIY Events
Bulk flowers can be budget friendly if you have the time and enjoy arranging flowers.
What's in your bucket.
A mixture of colors, textures, flowers and greenery; from 25 to 35 stems depending on the flowers available at that time of year. How many arrangements you can make with a bucket depends on the size of the vase or container and the fullness of either. An airy arrangement can be just as beautiful as a fuller one.
Flower Bucket- $70.00
A 2gal bucket filled with flowers, without crushing them.
Mixed Bucket- $55.00
A 2gal bucket filled with both flowers, fillers, and greens.
Filler Bucket- $40.00
A 2gal bucket filled with fillers and greens.
DIY THINGS TO CONSIDER
Pick-up: Will be scheduled at the time of ordering.
Transportation: Flowers should be placed inside an airconditioned vehicle, with proper support to avoid damage. Leaving flowers in a hot vehicle in the summer will most likely cause severe damage.
Supplies: You will want buckets of fresh clean water and clippers. Floral food and other supplies may be necessary for your creations.
Workspace: A cool place with plenty of room to spread out. It's okay to make a mess!
Helping hands: It's always good to have extra hands for designing and cleaning up, it takes time.
Storage: Flowers should be stored in a cool room out of direct sunlight or in a cooler, away from fruit. Careful with coolers and fridges as some are set too cold.
Once flowers are out of our hands they are no longer our responsibility, so please take our suggestions for transportation and storage seriously.
Interested in any of our floral options or have questions. Contact us.